Hamilton Southeastern Utilities' sanitary sewer located along Mud Creek in Avalon section three will be undergoing new construction. Site preparation will begin on December 5, 2016 and excavating work will begin January 10, 2017. This work is expected to last between 45 and 60 days depending on weather and working conditions.
This project will require more equipment on site than usual which could result in more noise and light than what is normally experienced in the area. Out of courtesy, we will do our best to keep the noise level to a minimum during the early morning and evening hours.
As a matter of safety, pedestrian walkways within the work-site (shown below) will be temporarily closed to traffic throughout the construction period.
Due to poor weather conditions, the final grading and restoration of the lawn areas may be delayed until spring.
During this process, sewer service to all residence WILL NOT be interrupted.
For a larger image, of the areas affected, please click the picture below.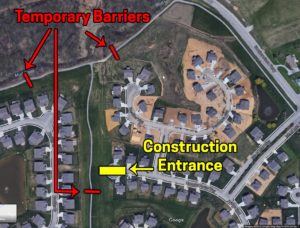 Notice is hereby given that Hamilton Southeastern Utilities, Inc. located in Hamilton County, Indiana, under and pursuant to the Indiana Utility Regulatory Commission Act, as amended, has filed with the Indiana Regulatory Commission (IURC) for an increase in the schedule of rates for sewage disposal services sold by it sewer utility in the amount of $1.05 per 1,000 gallons. This amounts to $4.76 per month per equivalent dwelling unit. This rate will become effective on January 15, 2016 or after approved by the IURC, whichever is later. The change in rates submitted to the Commission is based solely upon the change in the cost of wholesale sewage treatment service provided by the City of Fishers, Indiana. An increase in the cost of wholesale sewage treatment service from the City of Fishers becomes effective on February 1, 2016. The proposed retail rate change for customers of Hamilton Southeastern Utilities, Inc. shall apply to the next practical consumption period following final approval by the commission.
Hamilton Southeaster Utilities, Inc. – Kendall W. Cochran
The following work is being performed in the listed subdivisions:
Mainline Camera Work
-Thorpe Creek
We will remove the sewer cleaning signs from the area as soon as the cleaning has been completed in that area. If the sign is still posted all of the cleaning has not been completed.
The notifications above are for our customer's convenience and although we try to keep these up to date the best we can there may be work in other areas of our service area throughout the year
Why is this work important?
Sewer Cleaning
As waste-water networks age, the risk of deterioration, blockages, and collapses becomes a major concern. As a result, municipalities worldwide are taking proactive measures to improve performance levels of their sewer systems. Cleaning and inspecting sewer lines are essential to maintaining a properly functioning system; these activities further a community's reinvestment into its wastewater infrastructure.
-EPA
Mainline Camera Work 
As mentioned in the sewer cleaning work description, aging waste-water systems need to be monitored to ensure the highest levels of productivity. To ensure the integrity of our system, we use in-line cameras to video over 430,000 feet of pipe every year.
Lateral Video Inspection
For the same reasons we video our mainline pipes, we inspect the lateral pipe running from residential and commercial properties to guarantee functionality and integrity.